Pinecastle Records is pleased to announce that it has signed Irish bluegrass artist , Niall Toner, to its roster. Niall will soon release a new single in his native Ireland, a song called "Tomorrow," taken from his upcoming Pinecastle release. This will be a new album of original material, due in the fall of 2012, in conjunction with a U.S. tour. Niall's most recent release in the U.S. was The Sounds of the Blackstairs Mountains, featuring his tribute to the father of bluegrass, "William Smith Monroe," which is still receiving extensive airplay on bluegrass radio.
"I am thrilled and delighted to be the first Irish artist signed to Pinecastle Records. It's a dream come true for me, and an honour to be part of a label roster that includes many of my own musical heroes, like Jesse McReynolds and the Osborne Brothers. I look forward to working with Lonnie, Ethan, Matt and the entire Pinecastle team. Onwards and upwards." – Niall Toner.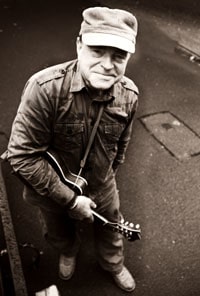 "I so enjoy your William Smith Monroe song, Niall, very well-written, and performed, and also timely in 2011, the Bill Monroe Centennial Year. Your video is also great. Very professional, and mighty good music to boot!" Greg Cahill, Special Consensus, Chicago, IL.
"It has been truly amazing to watch how the global radio community has responded to Niall [Toner] and his music. Niall has the fastest rising bluegrass album in the history of AirPlay Direct, and currently has the #2 bluegrass album of "All Time" on AirPlay Direct. This success at global radio has now translated into a record deal for Niall with Pinecastle Records… congratulations!" – Robert Weingartz, Chairman & CEO of Ai
rPlay Direct.
"Niall makes great 'open-hearted' music, and his tributes to Monroe are just superb. His 'Ocean Of Teardrops,' composed 'in-the-style-of' the Blue Sky Boys and the Monroe Brothers, is a duet song that kills me!" Paul Williams, Songwriter and President of ASCAP.
The Niall Toner Band is an acoustic Irish bluegrass band with Celtic influences whose diverse repertoire ranges from contemporary up-tempo songs and tunes to inspirational gospel-style numbers, as well as tributes to Bill Monroe the father of bluegrass like "The Master's Resting Place" and "Bill Monroe's Mandolin." Niall formed the Band 2001 with musical cohorts Clem O'Brien (guitar) and Dick Gladney (bass). Toner credits Clem and Dick for being so supportive in the constant strive for originality in his music.
Niall's composition credits include songs recorded by artists like Bill Wyman (The Rolling Stones), The Nashville Bluegrass Band, Albert Lee, Special Consensus, Keith Sewell, The Swanson Family and more. In 2003 Toner was nominated for a Global Artist Award by the CMA. To date, Niall and his Band have recorded and released three CD albums, and they perform their original songs and tunes on a regular basis at Festivals and Venues in Ireland, the UK, Europe and the USA.
Niall was born in Dublin, Ireland and nurtured an early interest in music by tuning in to Radio Luxemburg and the AFN radio service from Germany. The Saturday night re-broadcast of the Grand Ole Opry from Nashville was his first exposure to Country music, and when a local school-friend showed up with a collection that included the music of Hank Williams, Bill Monroe, The Carter Family and Jimmy Rodgers, Niall's musical fate was sealed. Niall Toner is widely regarded as one of Ireland's leading experts on bluegrass and American country music, and he brings this knowledge of music to a wide
audience, both through his live performances with The Niall Toner Band and various workshops, as well as through his radio show, Roots Freeway, which is broadcast on Ireland's national radio station, RTE Radio One. www.rte.ie/radio1/rootsfreeway/