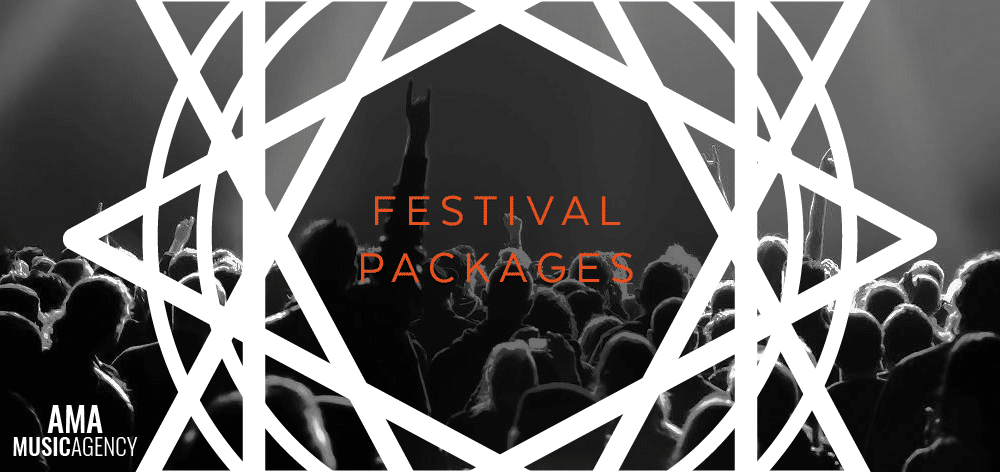 DEAL DIRECT WITH YOUR ARTIST **NO BOOKING FEES ON TOP**
Best Direct Price as your dealing direct with AMA Artists
Booking Top level International & National level acts we can design a Bespoke Line up baed on your budget
Get 25 x yrs experience in one phone call !!!
Easy Stress Free booking process
Immediate Availability on Nation & International Acts,
Friendly Advice on the end of the phone & New ideas to bring to your festival committee that will make your festival Rock
AMA can help you programme your festival the right way with all logistics and advance documents
AMA book Festivals Nationwide with acts that attract gross selling tickets sales based on your theme and budget. We have creative entertainment ideas, suggestions and friendly advice for getting your lineup booked in and all the logistical details wrapped up with one easy phone call.
From Profile International headline acts to cool support bands and emerging Talents we can help. AMA music supply entertainment to over 200 + Irish festivals every year.
WHY BOOK YOUR NEXT FESTIVAL WITH AMA?
See below a detailed list all the logistics AMA will arrange and include within our 10% booking fees for your festival
AMA Festival Services offered include ?
Sourcing + Contacting + Chasing down availability + fees for Artists you want.
Documenting fees and google charts monitoring flights , hotels , riders , tech issues
Finalising Artist confirmation & fee  , their deal and extras agreement on hotels , riders , meals , flights.
Securing final cleared and approved Artist contract in line with each Agreement.
Arranging the Clearance of media approved files ( Artist & Festival ) with joint collective agreed Announce dates.
Contract – Following up weekly chasing signing by Both Parties ( festival & artist)
Generating + Storing Post event folders for each and every act AMA books for your festival for Auditing + Transparency
AMA generated Advance information documents for every logistic the Artist require ( very important + highly welcomed by Artists management ) which includes a details report on event , stage , times , load in , hotels , all contact info , tech flights,
Gathering all riders technical , backline & dressing room.
Linking Artists tech team and your tech team with various riders , artist side and festival side.
Payments ? linking with accountants on both sides for all payments of deposit , invoice gathering , cross checking , and storing of payment slips , transfers on excel and google doc for Audit transparency.
Preparation of all google charts and folders.
Hotels , securing rooming lists from artists, documenting for housekeeping on the festivals side , dealing with any booking issues that may arise or need amending.
Local transport – documenting all pick ups from Airport required locally for agreed artists , times , and connecting drivers to artists management.
Ticketing – rweekly reporting with Advice from AMA regarding ticket sales for management of  top headline acts that will ask.
Final closing ? Closing off  , and cross checking correct figures for all deposit v balance invoicing for artists AMA books alongside reporting for your accountants or Artist management.
Fees ?
AMA fees charge are 10% to 15 % on final agreed fees per artist.
AMA fees are strictly due same time , same day as acts are booked in good faith.
In the case that you book any AMA artists directly with us you do NOT have to pay 10% on top the fees quoted are direct to you.
DEAL DIRECT WITH AMA TALENTS + ARTISTS WITH NO BOOKING FEES ON TOP!
AMA music work on behalf of all our own roster of talents so we do not put booking fees on top and we can come up with brilliant solutions based on your budget.
When booking with AMA you are guaranteed top level acts, and Profile bands that can draw a crowd and attract attention. We offer a stress free booking service and issue full contracts and booking forms for total peace of mind.
Our Talent + booking agents are in constant contact with all the artists on a daily basis tying up details so communication levels are good and projects can move fast. So with a single call to our office a serious amount of pressure can be lifted leaving you time to promote your festival. We will offer friendly relevant advice and can immediately let you know the availability for your chosen acts.
As we work direct with the Artists & bands we have great bargaining power, to get you the best DIRECT price currently available. We can also advise & quote on Technical production including PA, Lighting and Staging. With 25 years experience we have built a business based on mutual trust and reliability,
Let us advise you on the best schedule and programme your festival for you, we can bring a lot to the table and can handle all the details in a friendly professional manner.
Does your festival need a cutting edge concept to attract attention?
Need something a little different to draw the punters in?
We also hire Robot Characters, Digital Fire Art Performers, Silent Headphone Discos and the amazing Daft Punk Tribute.
We also have a Star Wars inspired theme on offer that features two real Storm Troopers, a seven foot tall Darth Vader and the most famous robot in the world R2D2. One of our robots is almost 9 foot tall and has an iPad built into his chest area for branding, we call him Robot-Ted and he stops traffic on a regular basis. He is great for promoting your festival in the local town, everybody wants to get their picture taken with him. Combine the Transformer BumbleBee and you have a winning combination that will stop any town in its tracks.
Daft Punk Tribute are perfect for large events, they never fail to get the crowd going and can tailor their set as needed to suit the festival. They can play friendly versions and remixes and no two shows are the same as the guys actually mix live. They spend considerable time in the studio perfecting their sets and getting it just right. They tour the globe and are just back from Russia, The Algarve and Spain. They have also featured on MTV Style and the Channel 4 TV show Look a likes.
Silent Headphone Disco is fantastic fun, two different styles of music at the same time and up to 500 wireless headsets makes for a serious session at a festival. No noise restrictions means you can party into the early hours if needed and not disturb anyone. We supply everything needed including DJs, Transmitters and spare batteries. Keep everybody happy with the music and let them choose between DJ channels.
Digital Fire Art is exclusive to AMA and is simply stunning for festivals, it's fire juggling without the fire! There is no risk of injury to guests as it's a digital effect and can be programmed. Photos and logos can be incorporated directly into the show to make for a display that is out of this world.
Professional POI artists are the performers, a highly skilled display that catches the imagination of guests and punters.