Book a music wizard on the decks who is destined to turn your festival into a thumping success.
Life behind the decks, on a massive stage, has become a welcomed norm for our experienced DJs who have worked years to hone their skill behind the mixer, playing at the most exclusive parties, for the most exciting crowds in stadiums and small offices alike, worldwide. Proof that our professional Disc Jockeys can transform any occasion into a thumping party – especially a good festival. Once darkness has set in a luminous light show from our Robot DJs accompanied by the mesmerising Digital Poi Dancers, or our globe trotting Daft Punk Tribute Duo is just what your festival goers' music-loving-heart desires.
Phats & Small's genre defying style conjures a world fuelled with creative sounds, one so fresh your punters will be busting some star-struck moves.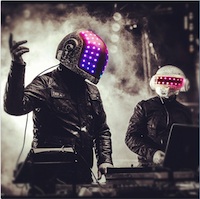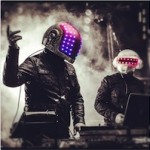 The combination of Live music accompanying a DJ set has become one of Ireland's favourite festival & event additions over the past year and truly brings something very unique as well as stylish to every kind of celebration. May it be a family event, a hipster fest or a dance spectacle, the Drummer / Saxophone & DJ Duo are in a league of their own when it comes to entertaining an eclectic crowd.
Always determined to keep one step ahead we are delighted to be able to offer the excellent Silent Headphone Disco, with availability reaching up to an impressive 500 headphones (one of the largest on our Emerald Isle). Shake the stereotypical Disco feel and instead give your visitors that little bit of extra laughter all organisers endeavour to find & provide. No noise restrictions to worry about, which is yet another added bonus!
Check it out, our top 5 killer DJ ideas for music festivals:
There are plenty new festivals emerging every year which join the beautiful backdrop to the already famous and long running music festivals of Ireland, with Irish music legends such as Aslan, The 4 Of Us, Gilbert O'Sullivan, Ryan Sheridan, Paddy Casey, Declan O'Rourke, Hurricane Highway & Keywest taking to the stage, as well as the best in the world of DJs and newcomers Red Empire, The Valves, Morrissey & Marshall, Rocstrong and Peter M. Smith kicking off the fun on the day!
Keeping your festival selection diverse and inviting the brand new & fresh is vital and an excellent DJ to play out a successful day is key to a lasting memory of your festival you have worked tirelessly on organising.
Contact [email protected] for your top festival line up!