Paddy Casey LIVE at Ashdown Park Hotel in Wexford, 18th July 2015
Paddy will be playing one of his legendary intimate sets, full of his top hits.
For more information keep updated on his Facebook Page: https://www.facebook.com/PaddyCaseyOFFICIAL or simply click this link for details on tickets and directions: https://www.facebook.com/events/683003255166444/
It'll be a gig you would like to have been at – so do get involved !!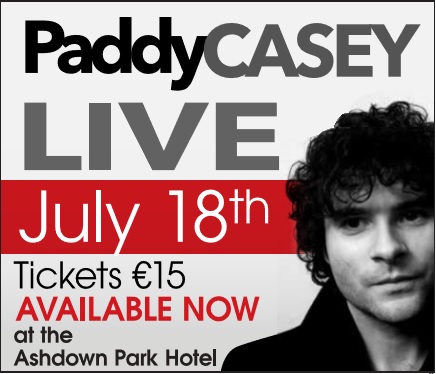 Paddy Casey has been at the forefront of the Irish music scene since releasing his debut album Amen (So Be It) in 1999, while his second release Living became the biggest seller in Ireland out-selling U2.
As one of Ireland's most popular artists Paddy has had the pleasure of sharing the stage with U2 on their Vertigo Tour, while also selling a week long sold out residencies in Dublin's prestigious Olympia Theatre and RDS. He has also featured heavily on the international stage having been invited onto and performed on the Hit American CBS Chat Show " The Late Show" with David Letterman.
After a five-year hiatus, Paddy Casey returned with his fourth album The Secret Life Of on November 9th 2012. It was recorded, produced and mixed at home in Paddy's kitchen by Paddy and Pat Donne. More recently, Paddy released a compilation album featuring 18 of his best and most popular songs including Sweet Suburban Sky, Whatever Gets You True, The Lucky One, Saints & Sinners and Fear, as well as some of his more recent tracks.
Paddy Casey Is proudly represented by AMA Music Agency Ltd.