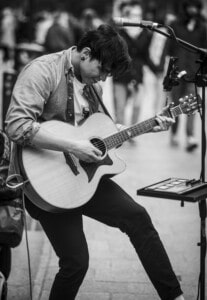 Indie-Electropop Artist Jacob Koopman continues to widen his influence with a new dark-Billie Eilish-esque single "Is that what you wanted?".
Returning after the successful release of the last single "Weight of the Wave" which has now over 30k listens on Spotify and 35k for the music video on YouTube. Jacob has once again teamed up with the producer and composer Brian Dwyer to deliver a tasty new track.
Hailing all the way from Bali (Indonesia), Jacob busks on Grafton Street, Dublin in between playing festivals and touring sold-out shows around Ireland. Throughout the 2020 pandemic, he has continued to grow his online presence by streaming live performances multiple times a week.
Jacob has had a productive few months in quarantine expanding his repertoire and he has big things in store for the coming months and 2021.
14 million views **