Maċa are a youthful 3-piece Irish sister band from County Wexford, who combine Irish Traditional and world folk music with an exciting modern approach. The group consists of Saoirse (lead vocals, acoustic guitar), Naoise (violin, vocals) and Ciara Carty (bodhrán, percussion, whistle, flute, vocals) and share a passion for Irish culture and composing their own music.
Maċa have recently released their debut album "SPIRAL" featuring 10 original tracks, composed by the sisters themselves, it is largely influenced by their roots in folk and traditional Irish music. Guest starring guitar virtuoso, Shane Hennessy, helps to ring out the girls' original sing-along lyrics and ebullient tunes. Their single "Call on You" has been receiving airplay throughout the country as well as overseas with the like of IRELAND TONIGHT weekly radio show in Chicago with Maryann McTeague Keifer.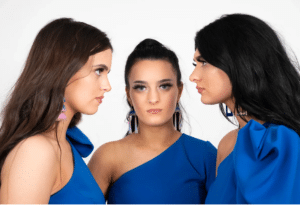 The girls were winners of TG4's Réalta agus Gaolta, Ireland's Most Talented Family 2018. Rónán Ó Snodaigh of KÍLA has said, "It is always nice to work with gifted musicians, but these girls are gifted and have a zest for the music. In short, They Rock! I can see them being the next Corrs".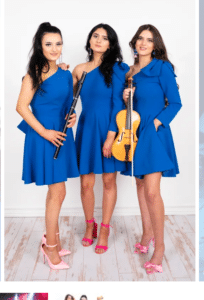 While sharing the stage with legendary acts such as ASLAN, Bagatelle and Johnny Logan the sisters skilled
musicianship has led them to appear in prestigious events, like the Olympia Theatre, Mermaid Theatre, TradFest
Dublin & Kilkenny, East Durham Irish Festival, the Marstal , Ærø Irish in Denmark, Wexford Spiegel Tent, to name just a few. They are booked to play at many of the major Irish Celtic Music Festivals in North America for 2021 and 2022.
Maċa performed a residency for 18 months at Disneyworld Resort Orlando, Florida USA and since lockdown they have been a Facebook live stream success, reaching audiences throughout the world from their home. Maċa were also delighted to feature on the Front Cover of IRISH MUSIC MAGAZINE 2021 Annual Edition which ran through the Christmas and New Year market.